The Best Fall Activities in Atlanta
It's officially Fall, the greatest season…. but it's still 90 degrees outside. Not surprised at all, Georgia. I can't wait until the seasons finally catch up with the calendar, but knowing the South, that's never happening. Either way, we don't have to wait to get our Fall on – I'm here to help all ATL-iens get ready to take FULL advantage of the beautiful October and November we're about to have. Keep reading to find out what you can do to enjoy the Georgia Fall to the fullest!
This one might be obvious but…. find a pumpkin patch near you!
I swear, all you have to do is Google "pumpkin patch near me" and you're good (unless you don't have one near you….. then you may have to drive a bit). If you're in the Atlanta area, I've done the research FOR you and compiled a list of 5 pumpkin patches that you can scour! Some of these will be a bit of a drive since a pumpkin patch is kind of hard to find anywhere in the city, but I promise it'll be worth it!
Sleepy Hollow Farm: Has a pumpkin patch, hayrides, and a corn maze! Located in Powder Springs, GA.
Washington Farm: I LOVE this one! It also has a pumpkin patch, corn maze, and a bunch of different fun activities! It is a bit of a drive because it's towards Athens (in Watkinsville).
Randy's Pumpkin Patch: This is the one I went to in my picture! It's so adorable and even has pony rides, a haunted house, a mini corn maze, and the staff is awesome too!
Buford Corn Maze: Although its mainly advertised as a corn maze, there is a pumpkin patch! Located in Buford.
Berry Patch Farms: Along with a pumpkin patch, it also has fried ice cream. WIN. WIN. Located in Woodstock.
Once you pick your pumpkins, learn how to carve them and have a fun carving contest with your friends!
Go apple picking!
This is DEFINITELY on my to-do list for fall – there's nothing like the taste of a crisp apple that you picked yourself. Here are some places around GA that I'll be checking out:
Hillcrest Orchards: You can choose the types of apples you want to pick, and the $14 admission fee includes a bunch of fun activities. They also have a cafe – perfect for that caffeine fix! Located in Elijay.
Red Apple Barn: This orchard only has a fee of $7.50 and has so many different sweet treats! You can take a wagon to the farmers market too! Located in Elijay.
Go to a Fall festival!
Honestly, whoever came up with the idea to have fall-themed festivals is a genius. They're almost better than music festivals to me (call me basic). Here are a few that I have my eye on:
Candler Park Fall Festival: October 5, 2019. They have a 5k race, food trucks, and live music!
Little 5 Points Halloween Festival & Parade: October 19, 2019. Little 5 Points has an ALL-DAY Halloween Festival. I mean, what could be better than that? BRB, pretending I've been whisked off to Halloweentown.
Have a picnic in Piedmont Park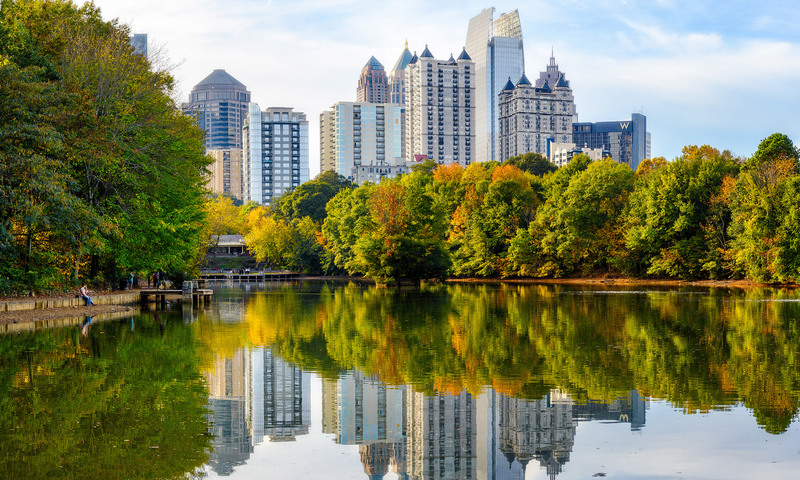 Piedmont Park is my favorite park of all time – you really can't beat the views, and the lake is SO beautiful. I honestly don't do any outdoor activities in the summer, but when it's finally 60 degrees outside, that's the only place I want to be. Have an evening picnic and watch the sun set over the lake while the city reflects over the water.
Go coffee shop hopping
If you know me, you know how obsessed I am with coffee, coffee shops, and anything remotely related to coffee. I've already written two blog posts about the best coffee shops in Atlanta, so grab a book (or your laptop) and go coffee shop hopping! Places like Grant Park/Inman Park and Old Fourth Ward are becoming new hubs for coffee shops, so that's a great place to start!
Best Coffee Shops in Atlanta (Post 1)
Hike
Like I said before, I hate being outside in the summer because I just cannot do heat. I'd rather be freezing than ever be in 90 degree weather (what am I doing in Georgia?). But Fall in Georgia is the absolute best time to go hiking! If you live in the city like I do, you may have to drive a bit to get to these scenic destinations, but it's definitely worth it. Here are some cool options:
Roswell Mill Hike (located in Roswell, GA)
Stone Mountain
Brasstown Bald Peak
Amicalola Falls
Yonah Mountain
Host a bonfire
This is something I'm DEFINITELY planning on doing sometime this Fall/Winter. There's nothing better than when it's chilly outside and you're standing in front of a fire with friends roasting s'mores. After some research, I've found places you can actually light bonfires (but of course, they may be a bit of a drive):
1. The ATL Bonfire: This is actually a really cool concept! It's a bonfire that's held at Chosewood Park every Sunday at 9pm, and there's a DJ and two bars….. you might need to call in sick on Monday, but it seems like a fun time.
2. Stone Mountain Park: Stone Mountain has a bunch of different campsites around the park, so you're bound to find one that'll be perfect for a bonfire.
3. St. Simons Island: This is definitely a bit of a drive all the way down to the south coast of GA, but it's so beautiful! You DO need to get a permit to build a bonfire here, but if you can get it ahead of time, that's ideal!
Take a trip to Lake Allatoona for a sunset BBQ
Because Lake Lanier is effectively cursed (look this up if you don't know about it), I've officially become team Allatoona. This would be the perfect Sunday plan – taking an hour long drive to the lake, spending the afternoon there, and then eating some comfort food with the sun setting in front of you.
Go to a fall fair!
Going to fairs is just as much fun as a child or an adult – there's nothing I love more than funnel cake and the glow of the amusement park rides in the evening. Georgia has some amazing fairs in the fall that are definitely worth it to check out:
Georgia National Fair: Located in Perry, GA (October 3rd)
Cumming Country Fair and Festival, Located in Cumming, GA (October 3rd)
Bake fall treats at home + have a Halloweentown marathon!
This is probably one of my favorite things to do on this entire list. To me, baking is a therapeutic activity – I mean you can definitely feel your stress melting away as you vigorously mix the cookie dough. It's also an arm workout, so there's that. If you add in the ENTIRE Halloweentown series….. it sounds like a pretty wholesome day. Halloweentown is still one of my top 10 favorite movies, and I can't wait to set aside an entire day dedicated to exactly this. Why don't they come out with movies like that anymore????
A few treats I'm really excited about making at home this fall include healthy pumpkin bread, overnight oats, healthy chocolate chip muffins, and chickpea blondies! Pair it with a homemade pumpkin spice latte and you're set.
Check out how I make my lattes here!
TRICK OR TREAT.
This is definitely self-explanatory…. but trick or treating was my favorite thing to do as a child and I still miss it so much. Is it acceptable for adults to trick or treat???? Asking for a friend.
I sincerely hope that this post has helped you plan your Fall activities even a little bit – I'm always here to show you the best of ATL and many other cities coming soon 😉
If you have any recommendations for anything fall-related, please let me know! I want to do as many fun activities as possible in my favorite season!
xoxo
Alisha
0
Related